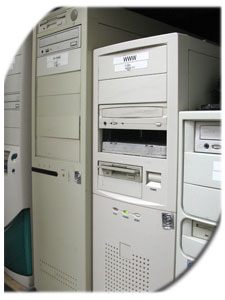 Instead of having no IT?
As simple and streamlined as you try to keep your operation, these days you simply can't run your business without some IT. There almost isn't any business that doesn't need to get e-mail, or type up some documents. Sometimes you need a lot, sometimes just a little. At Opihi Net, we'll take the time to sit down and get to know your business and figure out just what IT your business really needs to run and keep it in your budget.
Instead of doing it yourself?
There are guys who like to tinker under their car every weekend and know everything there is to know about horsepower, drag and torque. But most of us simply want to enjoy driving our cars. That isn't to say that we don't know what kind of mileage we're getting or when we should bring it in for an oil change. But we're happy letting the mechanics keep our cars at peak performance while we enjoy the wind in our hair and a smooth ride. Likewise, there are some who want to crimp their own cables, install their own O/Ss, and lockdown their own firewalls. But if you just want your computers running fast and secure so you can keep running your business, then let Opihi Net keep everything smoothly for you.
Instead of hiring your own IT staff?
Running your business should be about... well, your business. If you sell crackseed, you should be focused on making the li hing mui taste just right, not whether or not you can track your seed inventory database. If you teach hula, you should concentrate on getting the right expression on your next choreography, not whether or not you can stream the video on your website. It's called "core competency", and it means you should focus on the focus of your business. At Opihi Net, IT is our core competancy. Let us handle all of those tech details, so you can worry about your own business.
Instead of some other computer companies?
We're not naming names here, but the techs from some companies we've worked with in the past really aren't that tech savy. The techs from some other companies may know how to talk fluently to a router, but just couldn't possibly explain to you why you it needed talking to in the first place. At Opihi Net you're get the right balance of both. We pride ourselves on constantly mastering the cutting edge of technology as well as our friendly and attentive service. We know what it means to have the Aloha spirit and it permeates everything we do.